Welcome to KSRI
Based on next-generation knowledge, we enable collaborative innovation in digitalization involving researchers, companies, students and citizens.
We achieve this by developing, maintaining and leveraging stable industry-on-campus partnership models, tailored collaborative innovation formats and accessing unique KIT infrastructures.
We strengthen the innovation skills and activities of our partners, encourage collaboration and raise awareness for important topics in the field of digitalization.
NEWS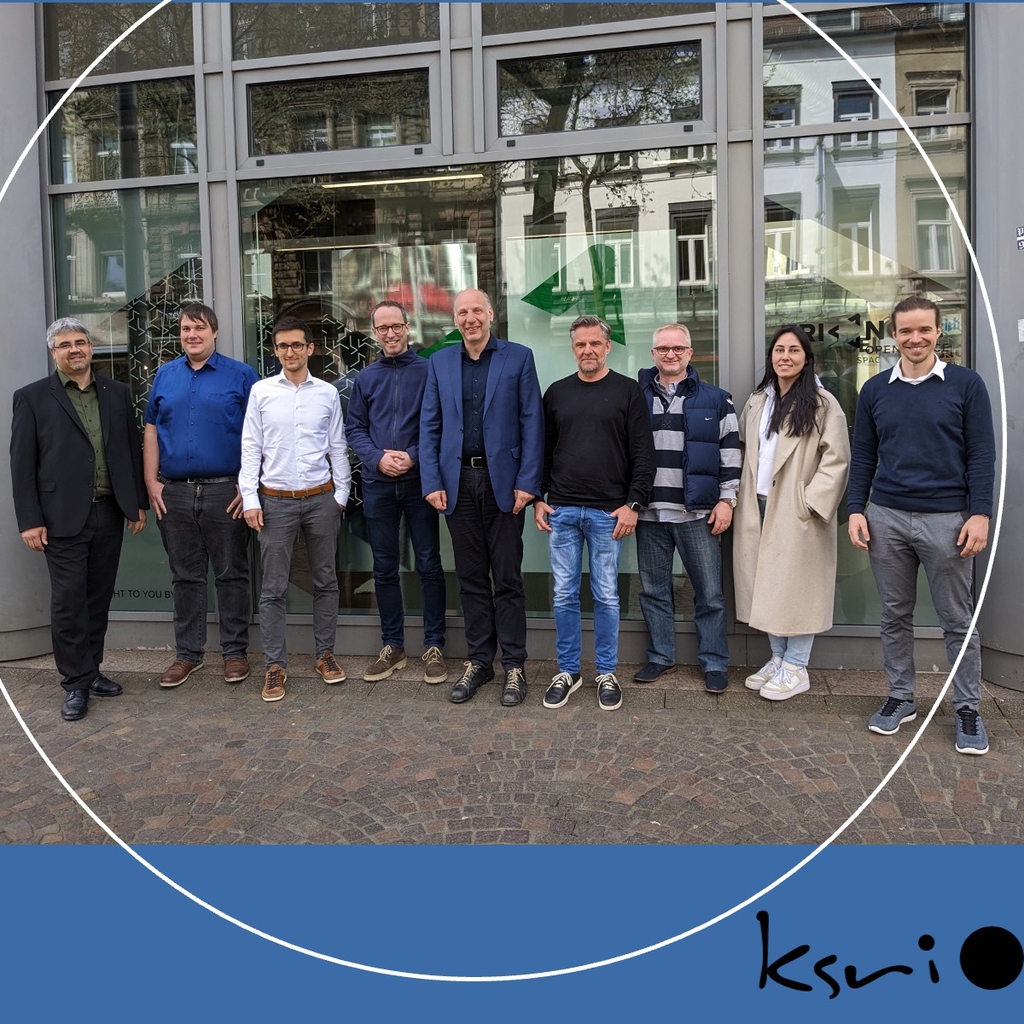 Extension of our successful project EVRALOG-BW approved
The Health Care Lab is pleased to announce that it has received two more years of funding from the state of Baden-Württemberg for their project EVRALOG-BW. The focus is on patient-oriented planning in Emergency Medical Services. The aim of the project is to find out how we can make logistical decisions in the Emergency Medical Services in such a way that patients can be helped in the best possible way. With the help of real data from past rescue operations, simulations will be used to combine the best medical care and logistics. Through interdisciplinary work with practitioners from the emergency services, the aim is to improve the quality of care not only in theory but also in practice.
More information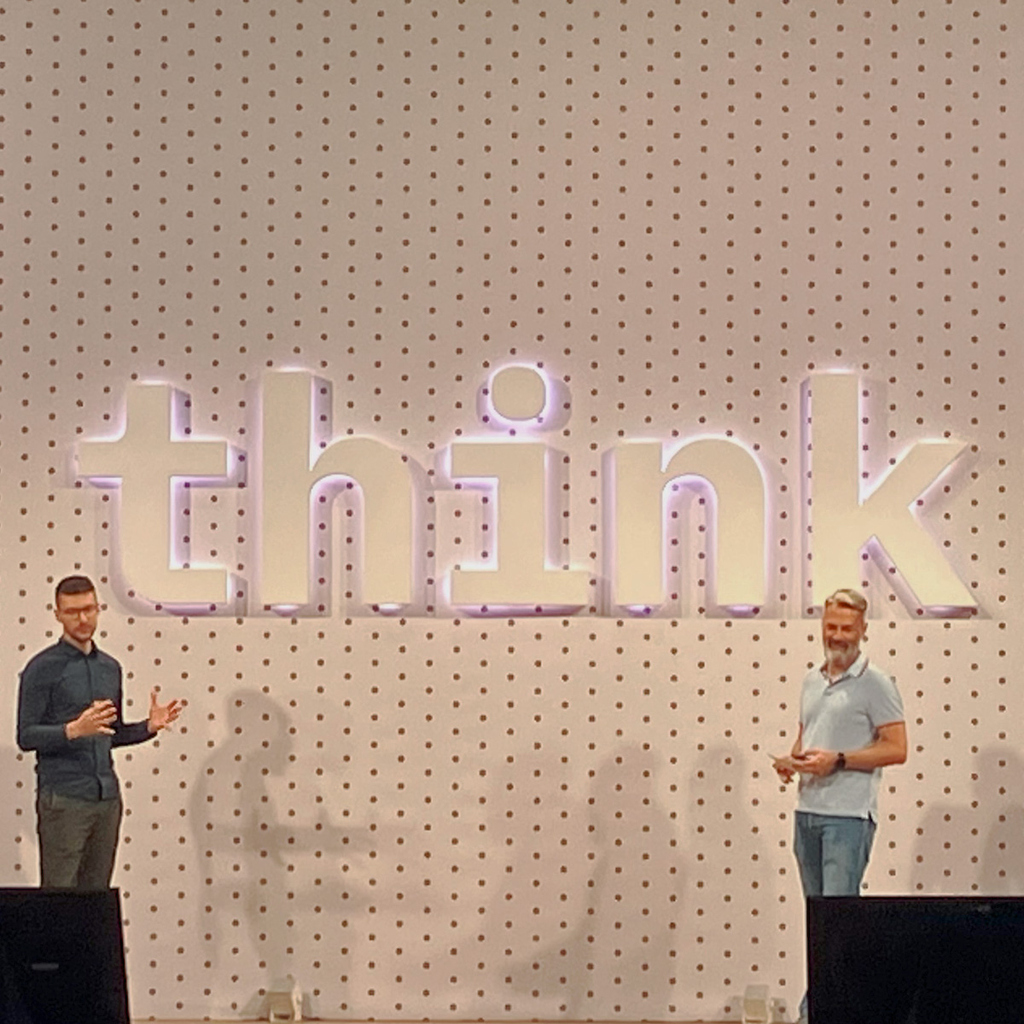 KSRI research live on stage at think_2023 with contribution to IBM-NASA project
We are delighted that KSRI PhD student Johannes Jakubik had the privilege of presenting his research in the area of foundation models and Generative AI for the prestigious IBM-NASA project at the THINK conference in Frankfurt. He shared the keynote stage with David Faller (VP Development & Managing Director IBM Germany Research & Development).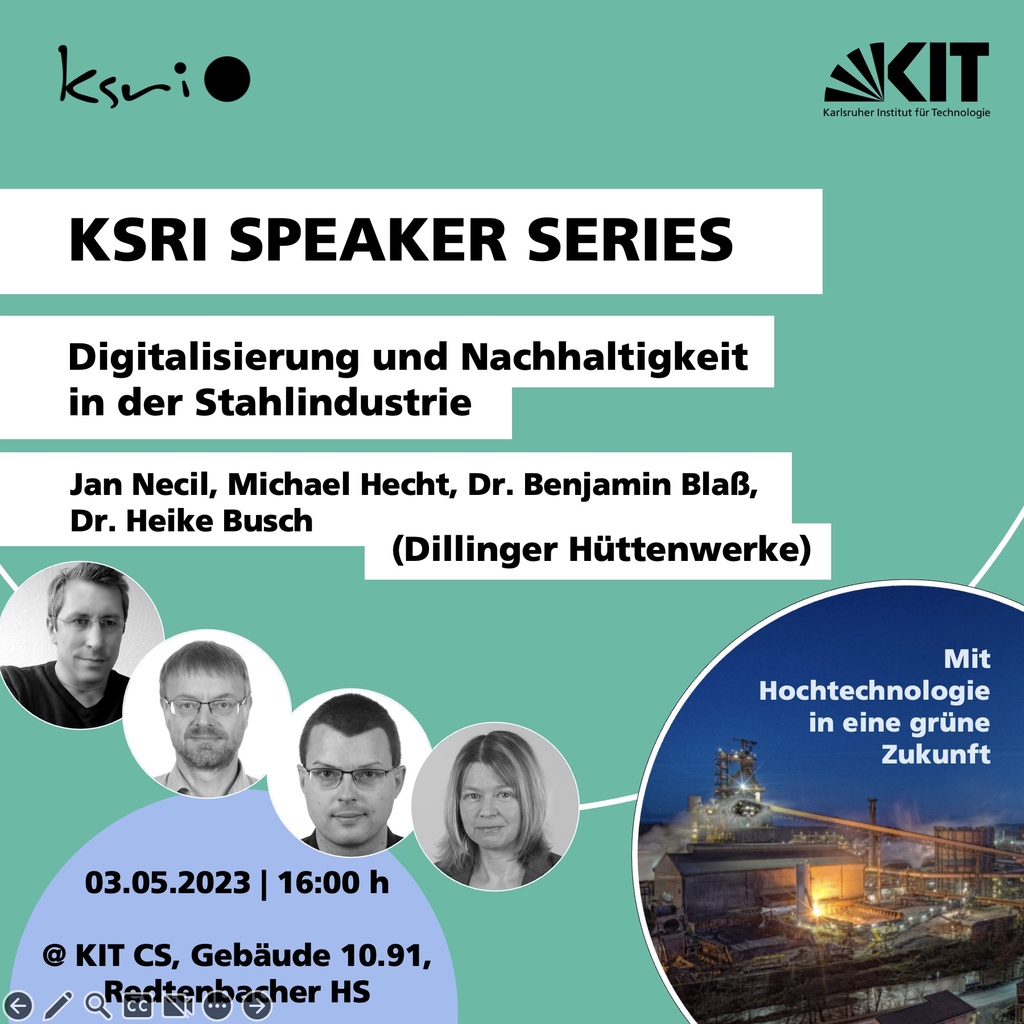 KSRI Speaker Series with Industry Experts from Dillinger Hüttenwerke on May 3rd.
We invite you to join us on May 3rd at 4:00 pm (KIT Building 10.91, Redtenbacher HS) for a KSRI Speaker Series with industry experts from Dillinger Hüttenwerke.
Join us to meet and discuss with Jan Necil (technical manager for models, optimization and simulation in technical logistics), Michael Hecht (expert for technical process models in steel production - including electric arc furnace), Dr. Benjamin Blaß (specialist for data science - machine learning and image analysis), Dr. Heike Busch (expert for production planning and technical logistics).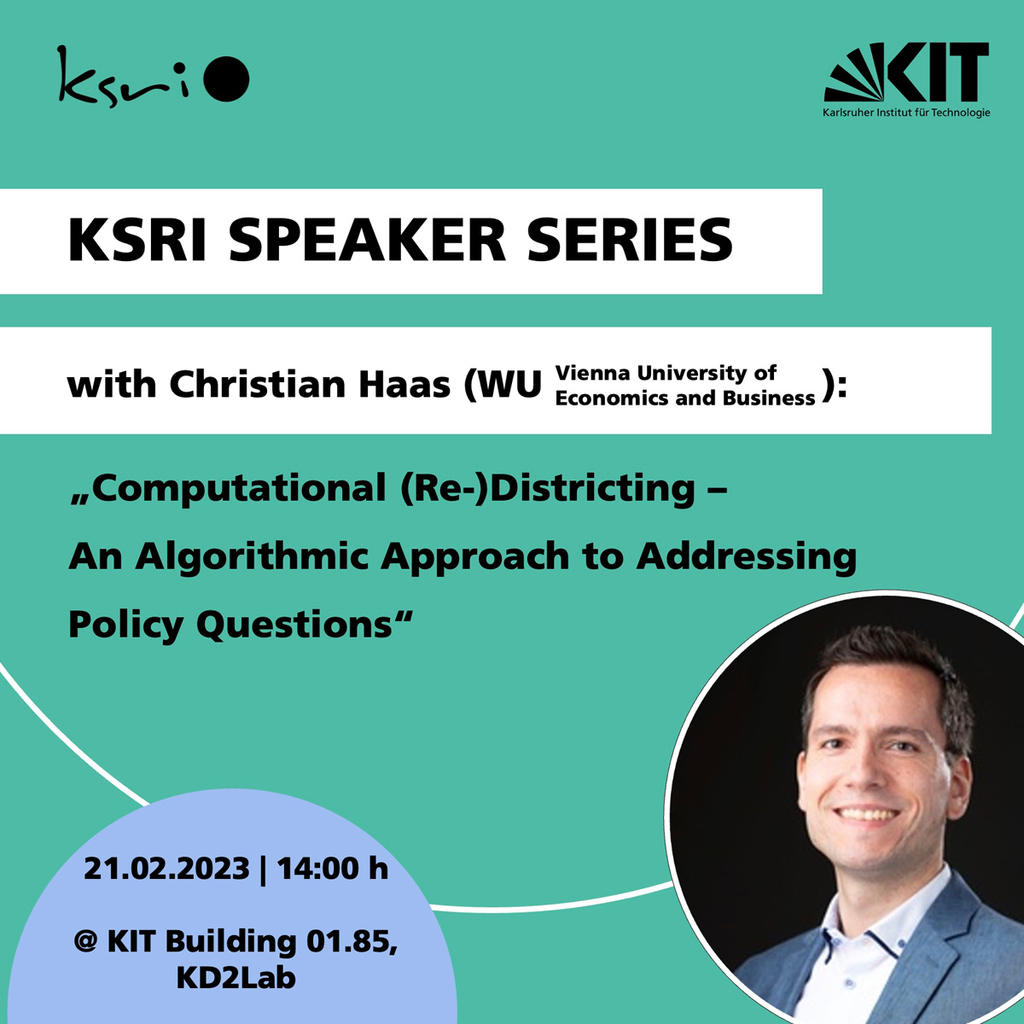 KSRI Speaker Series with Christian Haas on Feb 21st
We are always delighted when our scientists move out into the world... we are even happier when they visit us with new ideas. We invite you to join us Feb 21st, at 2:00 pm (KIT building 01.85, KD2Lab) for a KSRI Speaker Series with Christian Haas from WU - Vienna University of Economics and Business on: "Computational (Re-)Districting - An Algorithmic Approach to Addressing Policy Questions."

Abstract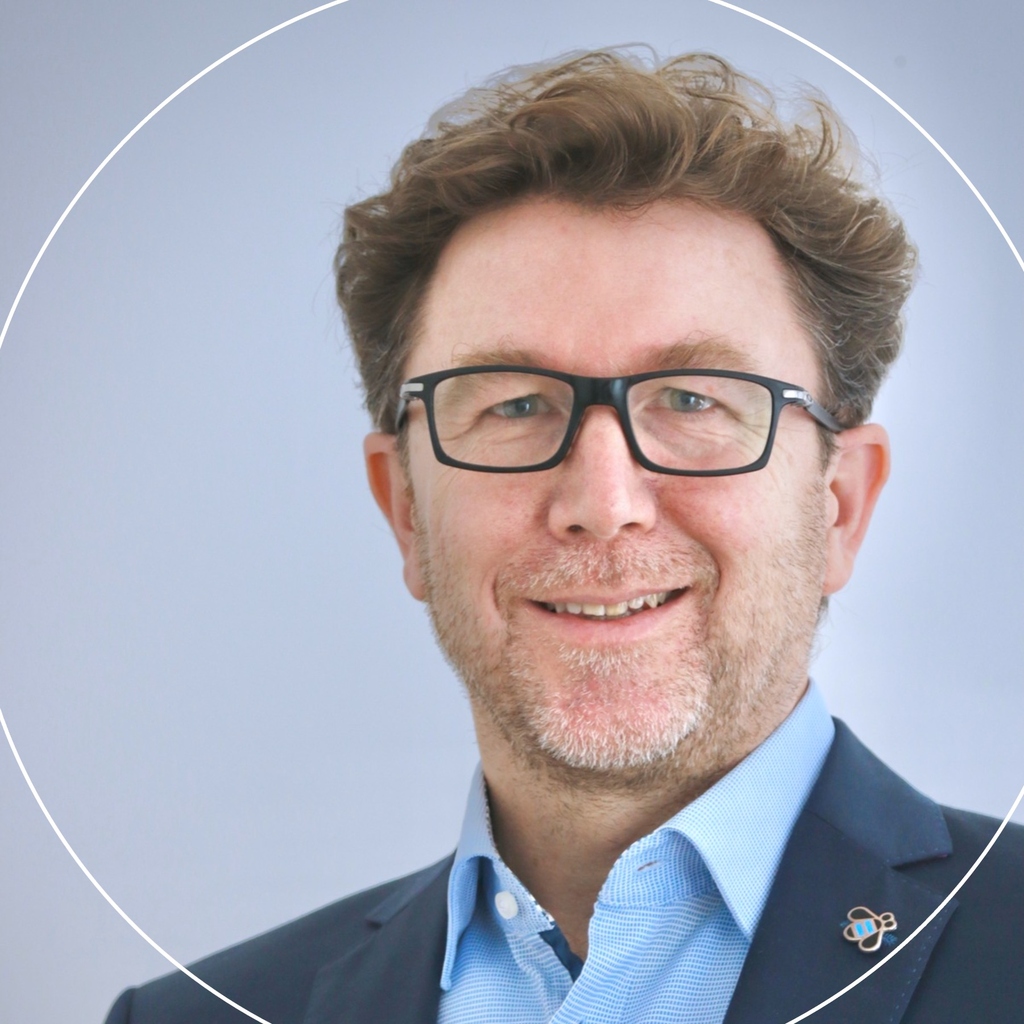 We warmly welcome our new KSRI director Dr. Carsten Holtmann
On January 1, 2023, Dr. Carsten Holtmann has been joining the KSRI leadership team as a director.
Carsten is living in Karlsruhe since 1999. He has always been closely connected to the local IT and Science community. He has been working as a researcher, and lecturer at KIT, as business unit leader at FZI, and acting as a strong promotor of networking initiatives amongst local SMEs, industry, and science.
We are happy to welcome Dr. Carsten Holtmann as a director and are looking forward to IBM's continued commitment to the close partnership with KIT and its industry-on-campus engagements.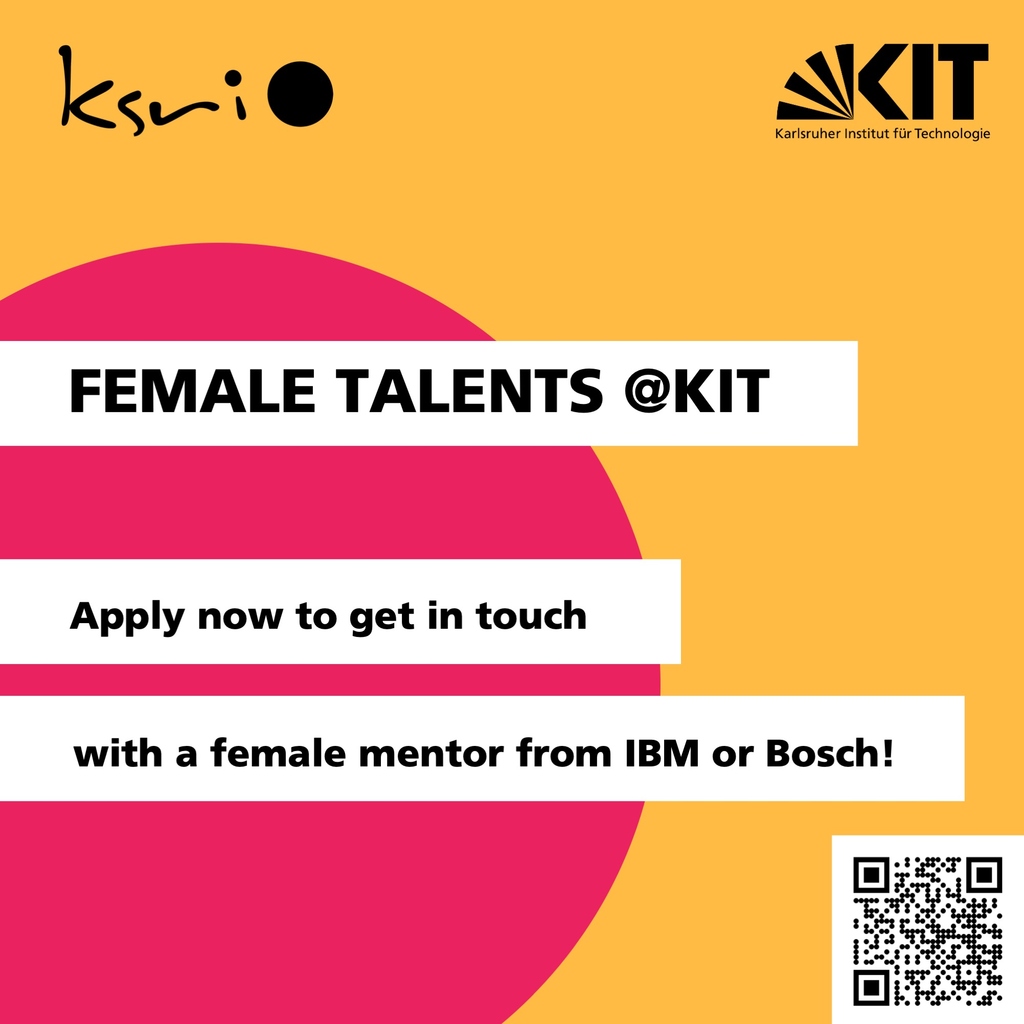 Apply Now for Female Talents @KIT 2023!
Use your chance to get inspiring insights into your dream job and learn from a personal female mentor – apply for Female Talents @KIT 2023 until January 31st with one of our partners: IBM and Bosch!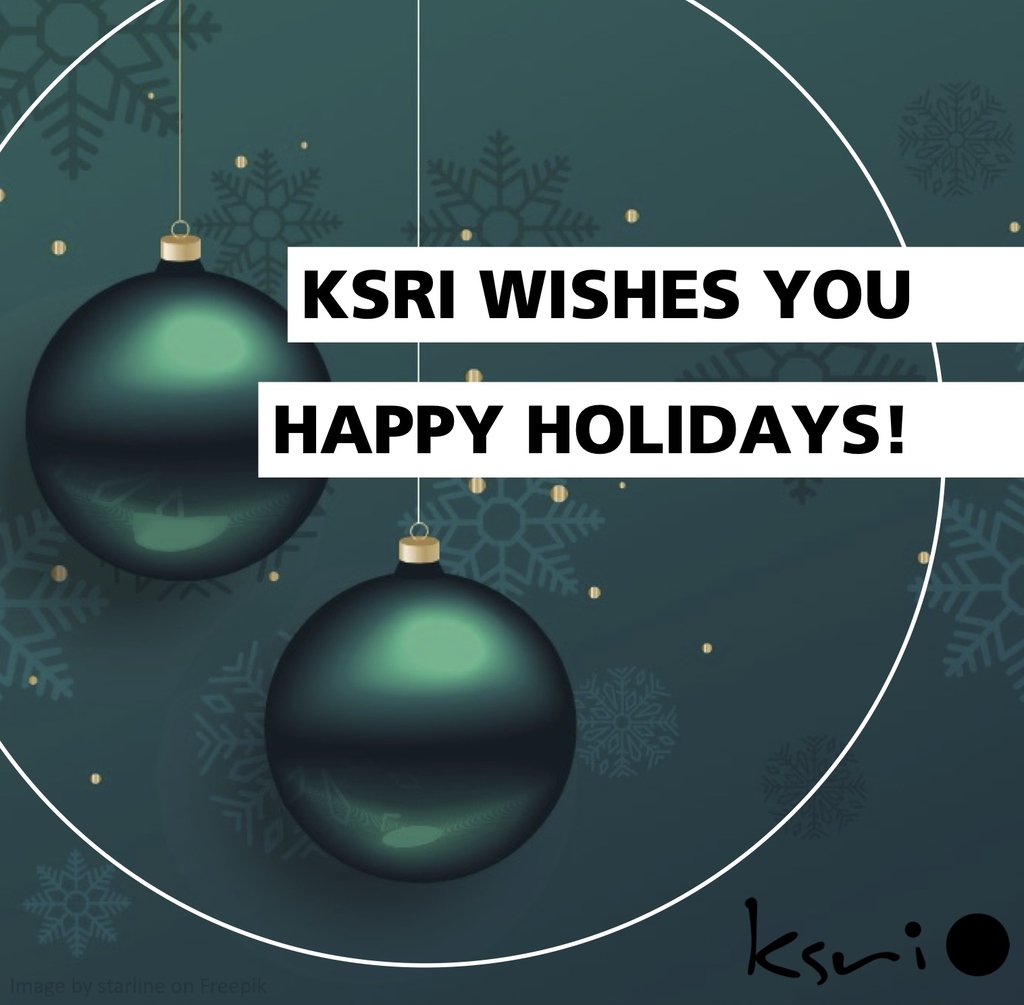 KSRI Wishes You Happy Holidays
We would like to thank everyone for this successful and inspiring year 2022. We are grateful for our growing network and especially all the great people and minds within. We wish you happiness and good health for this holiday season and we are very much looking forward to see each other again next year!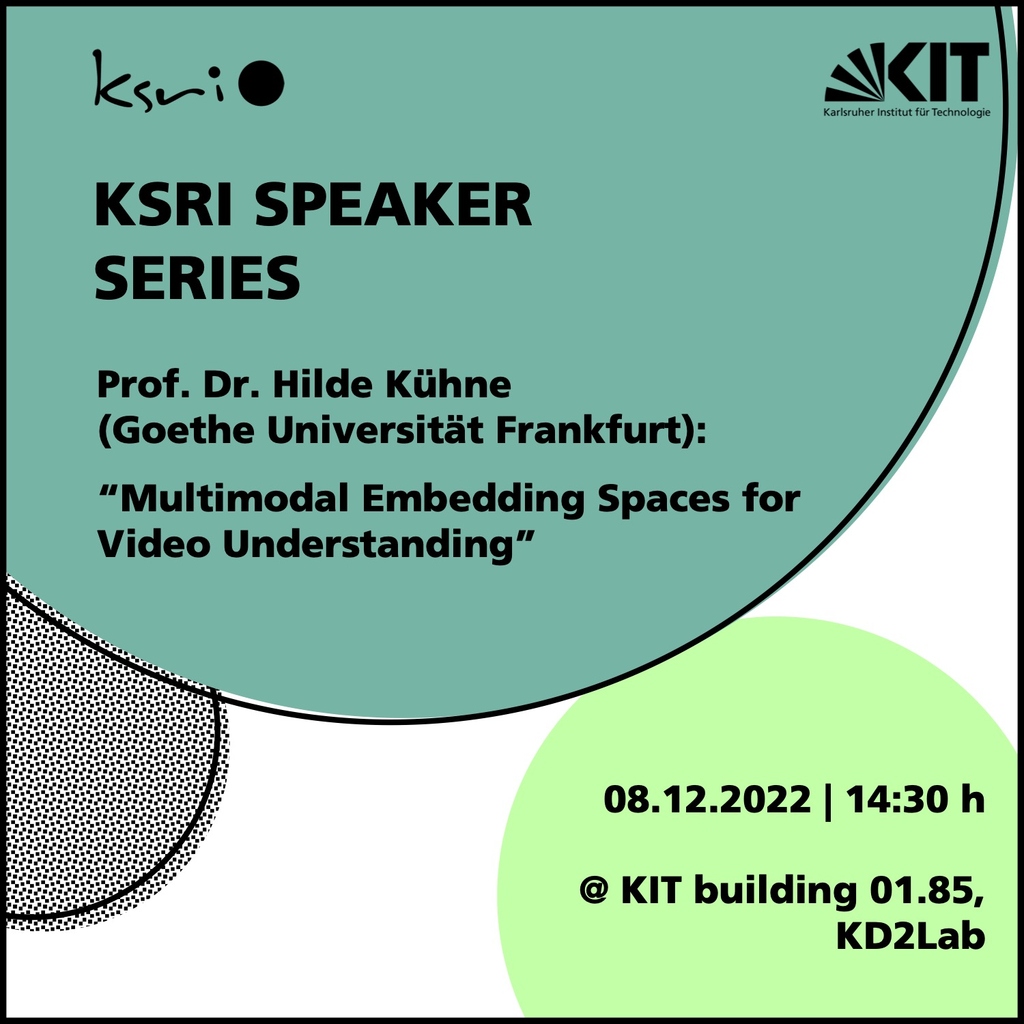 KSRI Speaker Series with Prof. Hilde Kühne on December 8th
We warmly welcome Prof. Hilde Kühne from Goethe University Frankfurt for our KSRI Speaker Series on December, 8th. We will have the pleasure to hear a talk about "Multimodal Embedding Spaces for Video Understanding". You are invited to join us at the KD2Lab (building 01.85) on December 8th at 14:30 h.
Abstract:
Until recently, most methods for action classification and detection relied on supervised learning. But video annotation is very cost and time-consuming as it usually requires not only the label but also corresponding time stamps to capture its relevant content. Hence, relying on hand annotation alone will make it challenging to cover considerable amounts of video data and to develop systems to work on large-scale domains beyond existing datasets.
This talk will address methods, benchmarks, and evaluations for learning human actions without labels, focussing on the idea of inferring actions within videos without any label via multimodal embedding spaces that allow matching visual sequences to semantic concepts.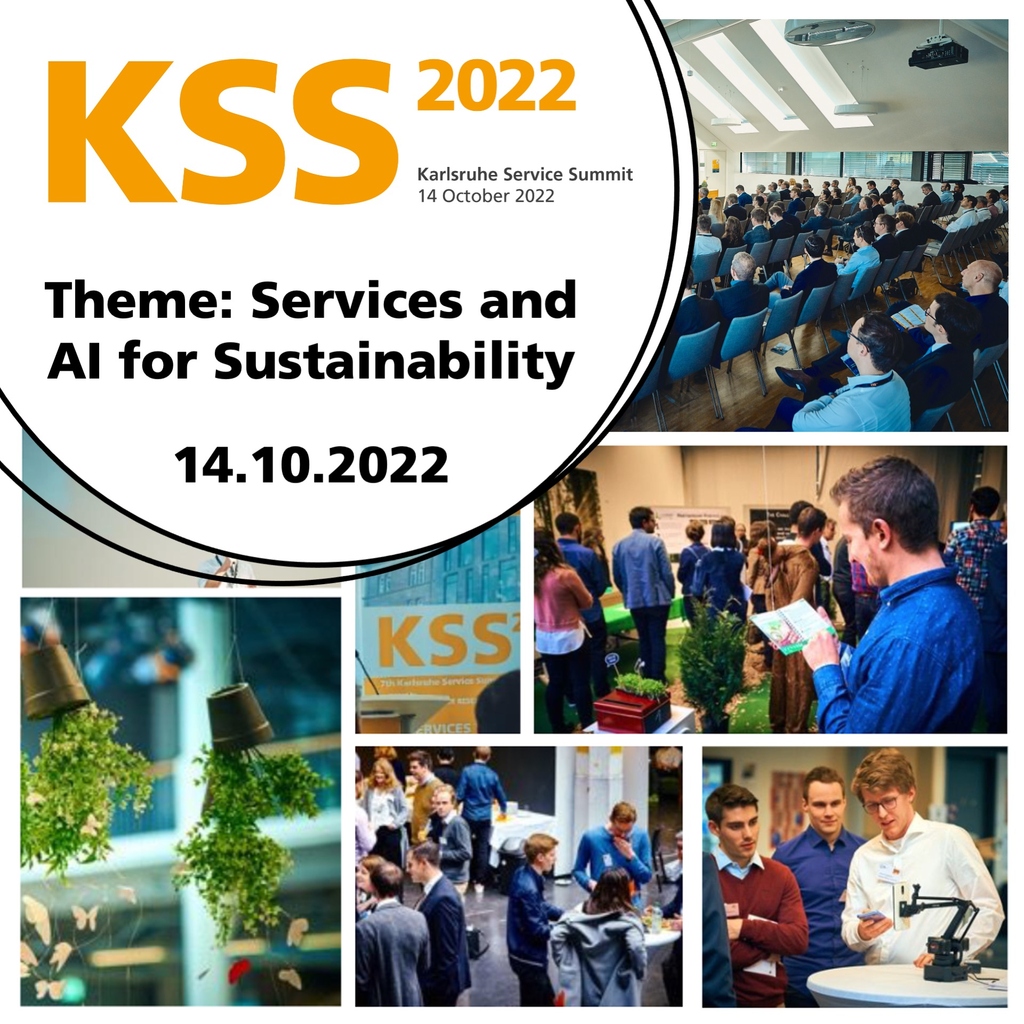 Karlsruhe Service Summit 2022: Services and AI for Sustainability
The rapid digital transformation of businesses and society creates new challenges and opportunities for Service Science. With a focus on 'Digital Service Systems' the Karlsruhe Service Research Institute (KSRI) has become a globally leading service institute and a service innovation hub.
For the 8th time, KSRI invites international experts from industry and academia to the Service Summit in Karlsruhe on October 14th. Digital service experts and stakeholders from important service domains will give you insights into their visions and showcase industry examples. In addition to keynote speeches, researchers from KSRI and its partners from KIT as well as industrial partners will present their latest research results - via hands-on demonstrations and a poster exhibition.
With this year's theme, we focus on the the potential of digital services and AI for society and the economy and further sustainable development. Be part of the future, design the digital transformation in an inspiring atmosphere and connect with peers and thought leaders!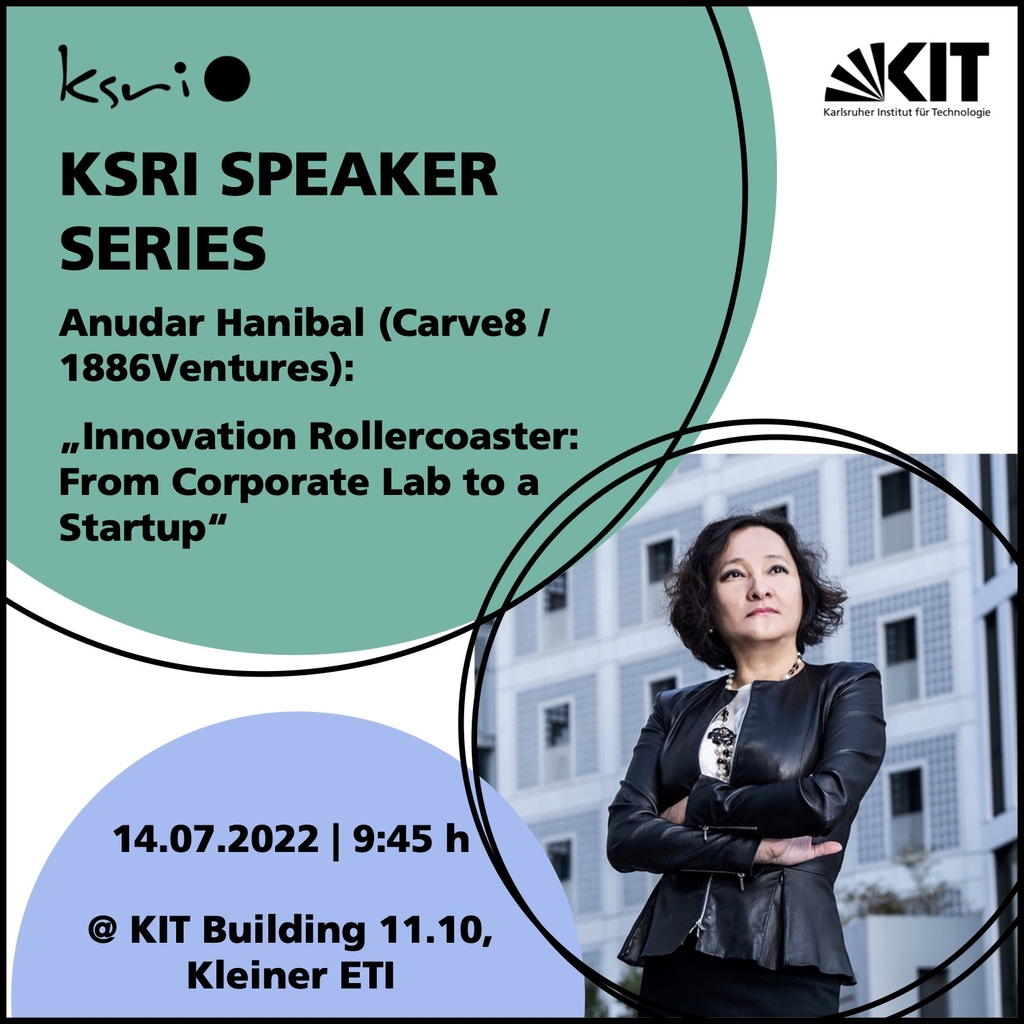 KSRI Speaker Series with Anudar Hanibal on July 14th
This week, we warmly welcome Anudar Hanibal from Carve8 / 1886Ventures as a guest speaker at KIT. We are looking forward to her talk "Innovation Rollercoaster: From Corporate Lab to a Startup" and invite you to join on July, 14th at 09:45 am (KIT building 11.10, Kleiner ETI).
Being managing director of a startup and looking back at an exciting career at Daimler AG, Anudar will provide first-hand insights into the challenges of driving innovation in dynamic environments.
We are looking forward to seeing you, Anudar Hanibal, and other interested listeners on campus!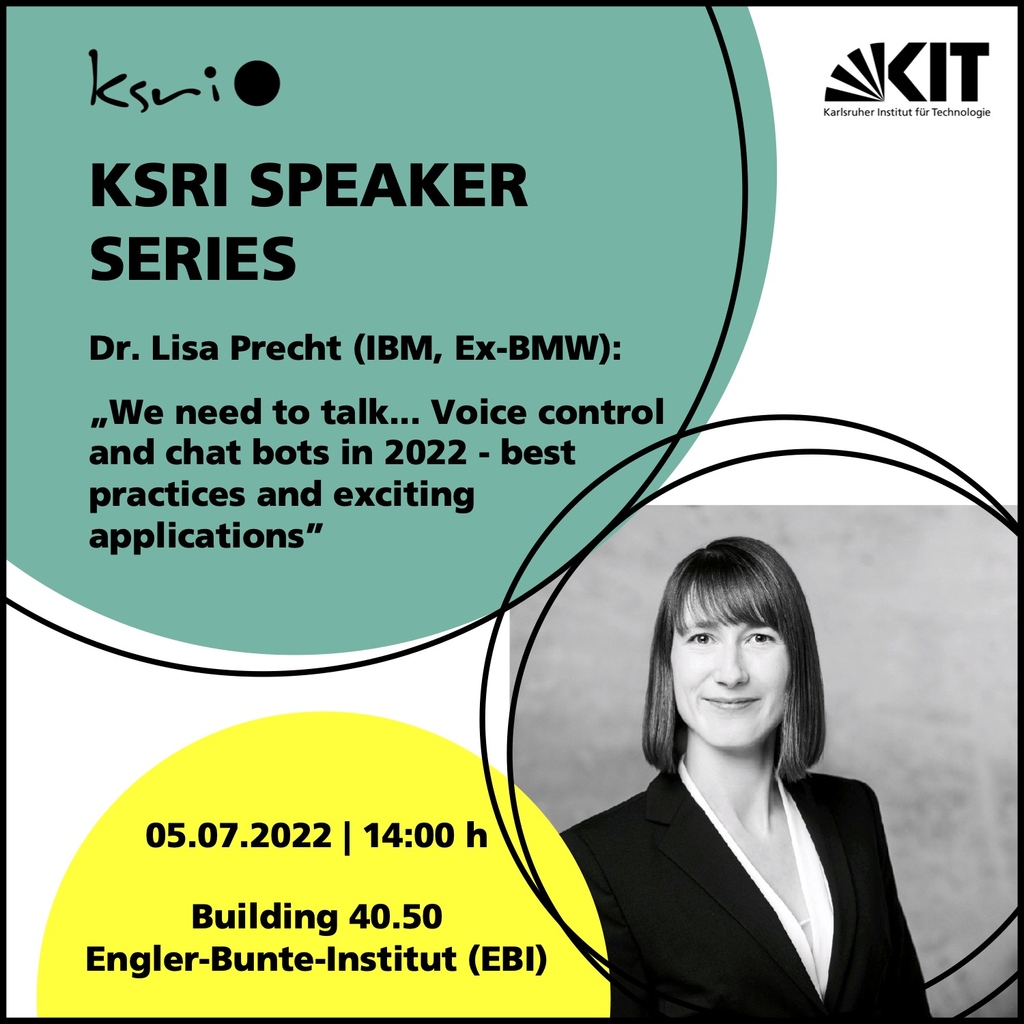 KSRI Speaker Series with Dr. Lisa Precht on July 5th
We warmly welcome Dr. Lisa Precht for our KSRI Speaker Series on July, 5th when she speaks about why "We need to talk... Voice control and chat bots in 2022 - best practices and exciting applications".
Abstract: Speech – whether written or spoken – is the most natural form of interaction for humans. Voice control and chat bots are therefore becoming increasingly popular. In addition to the growing willingness of customers to try out this still "young" operating modality, however, their associated expectations are also rising. Although many providers have created excellent technical conditions in this area, conversations with voice assistants or bots sometimes still result in disappointing experiences and leave customers frustrated. In this presentation, I will shed light on the psychological perspective on which best practices can be used to create dialogs that not only delight customers, but can even contribute to greater efficiency or security. I will look at possible applications in areas, such as mental health, security and aging, as well as information search in times of fear and new threats.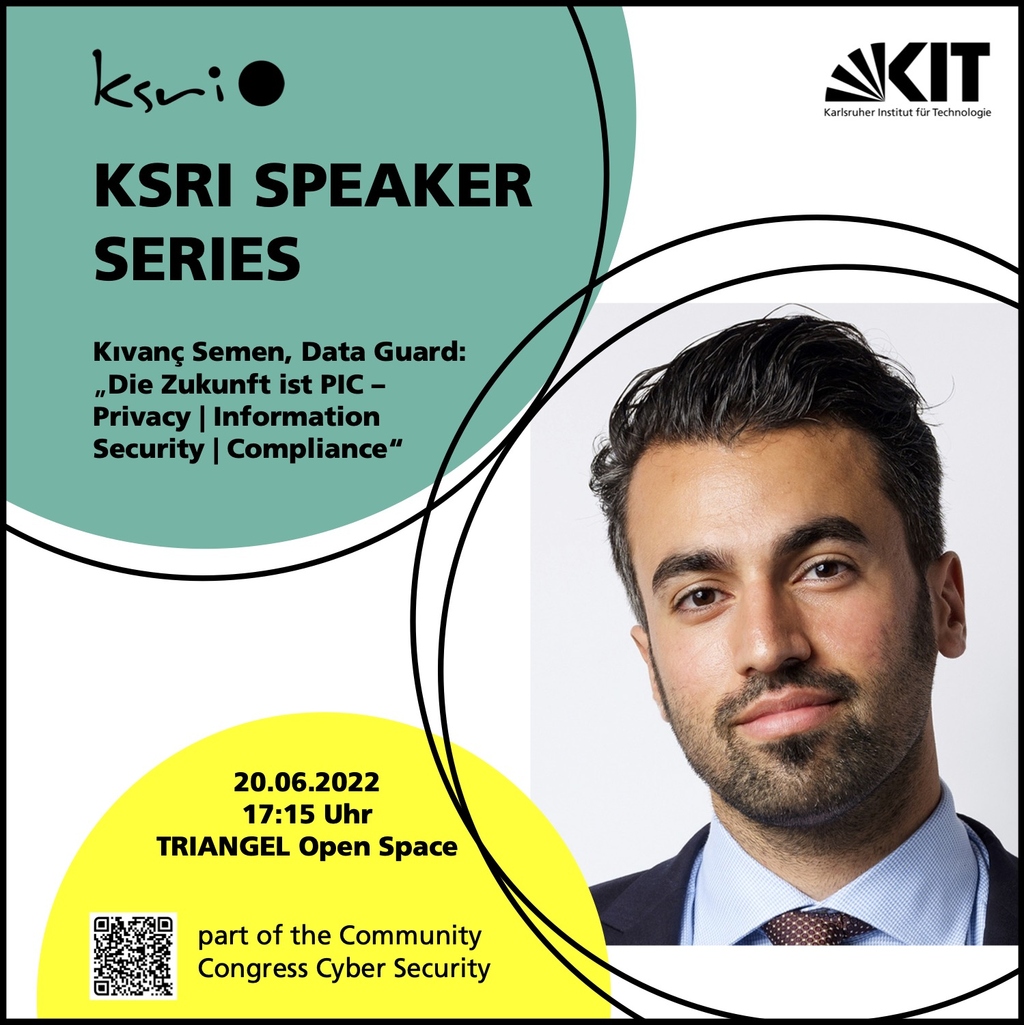 KSRI Speaker Series with Kıvanç Semen on June 20th
We are happy to welcome Kivanç Semen for our KSRI Speaker Series on June, 20th, 17:15 h at TRIANGEL OpenSpace. His talk "Die Zukunft ist PIC – Privacy | Information Security | Compliance" is part of the Community Congress Cyber Security and will be held in German. You can find the complete programm of the Community Congress here and are warmly welcome to join for the full evening.

In his talk, Kivanç Semen will share some insights about his founding experience. In summer 2017 - when the DSGVO was about to come into effect, he and his school friend Thomas Regier decide to put their vision into action and build a business that protects the people behind the data.
Kivanç Semen is founder and CEO of DataGuard. He studied business informatics and industrial engineering at KIT, Carnegie Mellon University in Pittsburgh and the Universidad Carlos III in Madrid. During his studies, he set his focus on data privacy and IT-security. He worked as a programmer and IT-consultant since youth and founded his first consulting firm with the age of 17.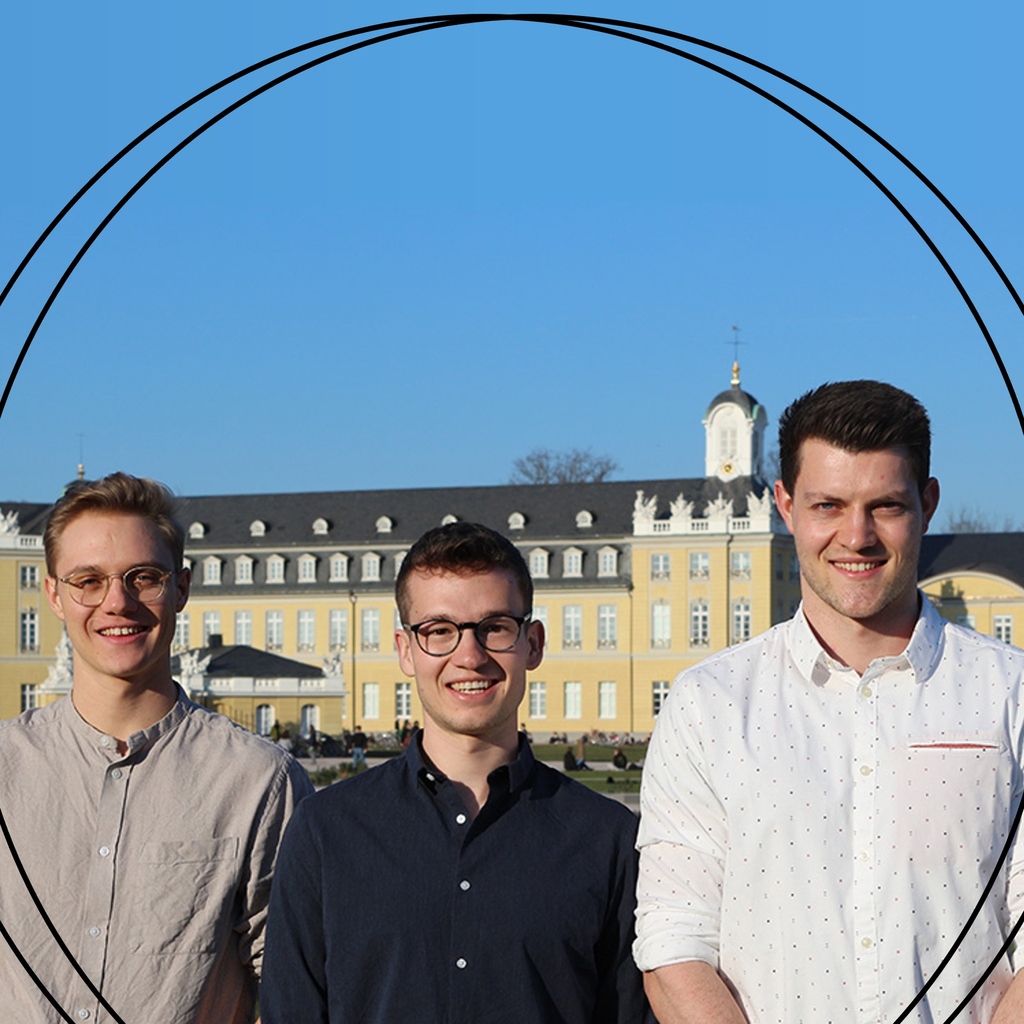 KIT student team now part of the DigitalChangeMaker accelerator
Lukas Dierolf, Luca Dilger, and Simon Maier, three students of the Faculty of Economics at KIT, observed during the pandemic that many students had difficulties to take advantage of online teaching formats in between face-to-face events. Too few places on campus were accessible for this. They decided to find a solution themselves and applied for the DigitalChangeMaker Accelerator of the Stifterverband and the Reinhard Frank Foundation with support from KSRI/IISM and Innovation and Relations Management (IRM).
On 07.03.22 they received the acceptance. Now it's time to get to work. Congratulations to the team!
Guest Lecture with Dr. Markus Pertlwieser
We are happy to welcome Dr. Markus Pertlwieser as a guest lecturer for an inspiring talk on: Digitalization in the Banking Industry and Beyond: Doing Things Right vs. Doing the Right Things?.
Dr. Markus Pertlwieser is CEO of Penta – a digital platform for business banking solutions – and a proven expert in digital business models and platform economy. He has 20 years of experience in developing corporate strategies and has been responsible for numerous product innovations. Prior to joining Penta, Dr. Markus Pertlwieser worked in various management positions for Deutsche Bank AG, most recently as Chief Digital Officer and as a member of the Executive Board of DB Privat- und Firmenkundenbank. He started his career at McKinsey Company after graduating from KIT.
Due to the current situation, the event will take place online via Zoom. We offer this as an open guest lecture within our course "Digital Services: Business Models and Transformation" @IISM-DSI. You are cordially invited to sign up (free of charge): info@ksri.kit.edu.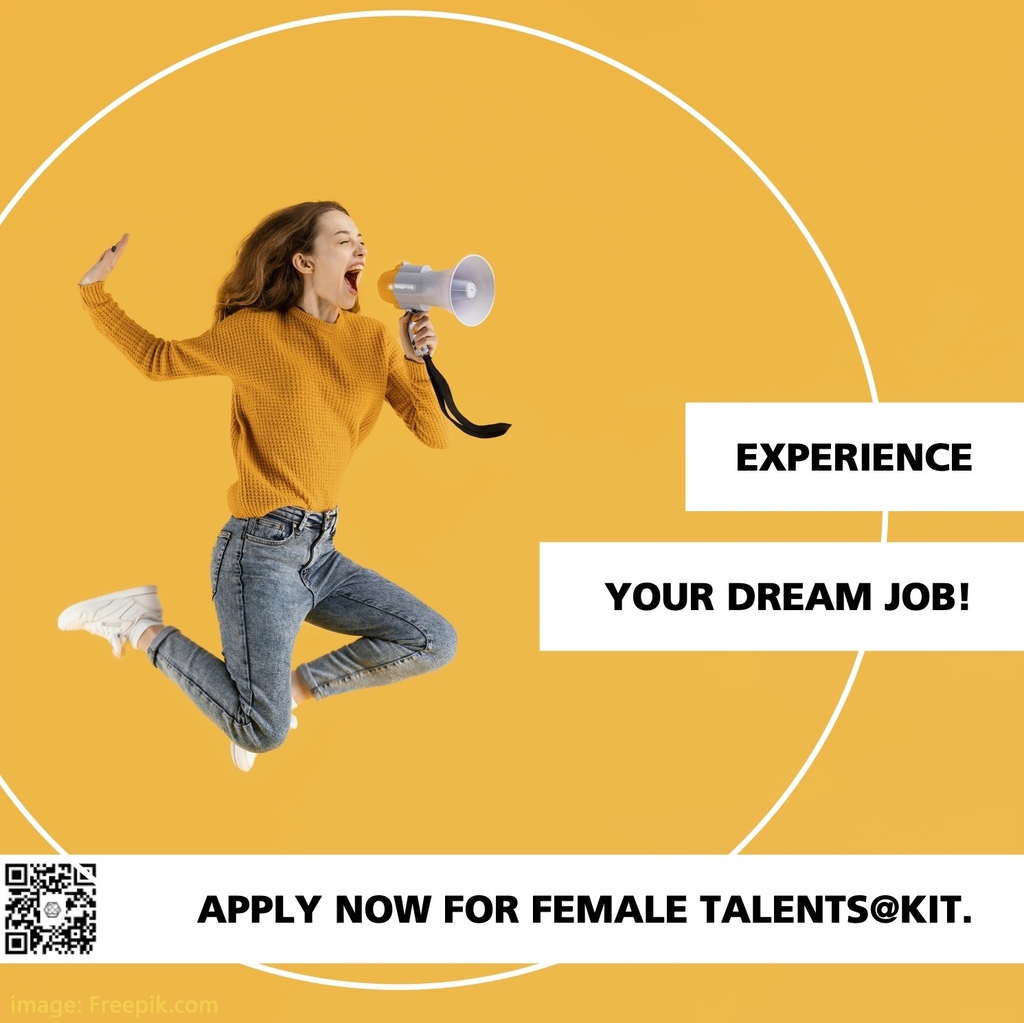 Apply now for FemaleTalents@KIT and get a picture of your dream job!
Are you looking for personal and professional development for your individual journey? Would you like to learn about career options and development opportunities and be inspired and accompanied by female role models?
Female Talents@KIT – It's your opportunity for personal and professional development. Apply now and get a picture of your dream job!
intro Café has opened inside TRIANGEL Open Space on May 1st
It gets cosy in TRIANGEL Open Space. Last weekend "intro CAFÉ" has opened its doors within the Innovation location at Kronenplatz. It is operated by a team of KIT students in a café-startup mode. Dishes are at least vegetarian, if not even vegan – everything produced sustainably and fair.
Go check it out! :)