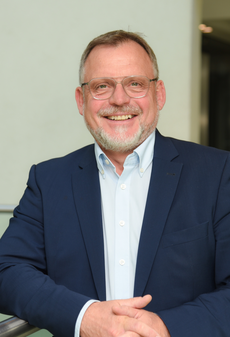 Prof. Dr. Christof Weinhardt
Information & Market Engineering

Di., 16:00 Uhr - 17:00 Uhr, Anmeldung per E-Mail bei Frau Astrid Burg erforderlich

+49 721 608-48399

weinhardt∂kit edu
Institut für Informationswirtschaft und Marketing (IISM)

Sekretariat: Astrid Burg

Fritz-Erler-Strasse 23

76133 Karlsruhe
Lebenslauf
Wissenschaftlicher Werdegang
| | |
| --- | --- |
| 1981 - 1986 | Universität Karlsruhe (TH) – Wirtschaftsingenieurstudium mit Fachrichtung Informatik/Operations Research |
| 1986 - 1989 | Universität Karlsruhe (TH) – Promotion zum Dr. rer. pol. am Institut für Wirtschaftstheorie und Operations Research bei Professor Dr. Dr. Wolfgang Eichhorn zum Thema "Preisinformation in der Theorie der Ungleichheits- und Wohlfahrtsmessung" |
| 1989 - 1994 | Justus Liebig Universität Gießen – Habilitation mit Venia Legendi in BWL und VWL am Lehrstuhl für Wirtschaftsinformatik bei Professor Dr. Ulrich Buhl zum Thema "Financial Engineering und Informationstechnologie : innovative Gestaltung von Finanzkontrakten" |
| 1994 - 1995 | Universität Bielefeld – Professur für Quantitative BWL (C3) |
| 1995 - 2000 | Universität Gießen – Professur für BWL-Wirtschaftsinformatik (C4) |
| Seit 2000 | Universität Karlsruhe (TH) – Professur für Informationsbetriebswirtschaftslehre (C4) |
| Seit 2005 | Direktor am FZI, Karlsruhe |
| Seit 2008 | Direktor am Karlsruhe Service Research Institute (KSRI), Universität Karlsruhe (TH)" |
Christof Weinhardt studierte Wirtschaftsingenieurwesen mit der Fachrichtung Informatik/Operations Research an der Universität Karlsruhe (TH), promovierte 1989 an der Universität Karlsruhe (TH), habilitierte 1994 an der Universität Gießen und nahm im gleichen Jahr den Ruf an die Professur Quantitative BWL (C3) an der Universität Bielefeld an. 1995 wechselte er auf die Professur BWL-Wirtschaftsinformatik (C4) der Justus-Liebig-Universität Gießen.
Seit Ende 2000 hat Christof Weinhardt die Professur Informationsbetriebswirtschaftslehre (C4) an der Fakultät für Wirtschaftswissenschaften der Universität Karlsruhe (TH) inne und ist Mitgründer und Leiter des Instituts für Informationswirtschaft und -management (IISM) der Universität Karlsruhe (TH). Seit 2004 ist er Sprecher des Graduiertenkollegs "Information and Market Engineering (IME)". Seit 2006 ist er außerdem Direktor am FZI - Forschungszentrum Informatik an der Universität Karlsruhe. Seine Forschungsgruppe im Fachbereich "Information Process Engineering" arbeitet in enger Kooperation mit den Gruppen der Professoren Lockemann, Stucky und Studer am Wissenstransfer zwischen KIT und Wirtschaft.
Sein Engagement gilt der fächerübergreifenden Lehre und Forschung, was sich sowohl im Lehrprogramm als auch in den Forschungsprojekten seiner Forschungsgruppen an der Universität und dem FZI widerspiegelt. Dabei betreut er u. a. die Diplom-, Bachelor- und Master-Studiengänge Informationswirtschaft und ist Sprecher des DFG-Graduiertenkollegs Informationswirtschaft und Market Engineering (IME). Seine Forschungsarbeit konzentriert sich auf die Verknüpfung von aktuellen Fragestellungen der Informationswirtschaft und des Market Engineering mit Problemstellungen und Anwendungen aus der Industrie in den Bereichen Finanzen, Energie, elektronischer Märkte, eHealth, Logistik, eServices und Grid Computing. In diesem Rahmen entstanden in den letzten acht Jahren 21 Doktorarbeiten.
Während seines Forschungssemesters besuchte Christof Weinhardt von August 2003 bis Januar 2004 die Haas School of Business an der University of California, Berkeley, USA. Das Hauptaugenmerk lag in dieser Zeit auf dem Computer-Aided Market Engineering (CAME) sowie der komponentenbasierten Modellierung und Implementierung von Verhandlungsmechanismen auf Basis von BPEL4WS. Weitere Auslandsaufenthalte als Gastprofessor und zu Forschungszwecken verbrachte er an der Concordia University (Montreal), der Singapore Management University (SMU), der WU Wien sowie in Italien und Australien.
Christof Weinhardt ist darüber hinaus in diversen Organisationen und Gremien tätig: Er ist Vertrauensdozent der Studienstiftung des Deutschen Volkes, war 2004 bis 2005 Vizesprecher des Fachbereichs 5 (Wirtschaftsinformatik) der Gesellschaft für Informatik e. V. (GI) und 2005 bis 2006 Sprecher des Fachbereichs 5. Von 2001 bis 2003 hatte er den Vorsitz der Wissenschaftlichen Kommission Wirtschaftsinformatik (WKWI) im Verband der Hochschullehrer für Betriebswirtschaft (VHB) inne. Zudem ist er Mitgründer und Mitglied des wissenschaftlichen Beirats der Fachgruppe 5.5 (E-Commerce) der GI. Christof Weinhardt ist in weiteren nationalen und internationalen Gremien und als Mit-Herausgeber ("Group Decision and Negotiation", Journal of "EM- Electronic Markets", "Wirtschaftsinformatik" und "BIT - Banking and Information Technology", Buchreihe "Studies on eOrganisation and Market Engineering") und Gutachter zahlreicher nationaler und internationaler Zeitschriften aktiv.
Forschung und Lehre
Forschungsfokus in den Gruppen am Institut für Informationswirtschaft und -management sowie am Forschungszentrum Informatik auf fächerübergreifenden, informationswirtschaftlichen Themen insbesondere Market Engineering, z.B.:

eServices,
Gridcomputing,
Prognosemärkte,
Energiemärkte der Zukunft,
Logistik.

Die Forschungsmethodik umfasst die prototypische Realisierung, theoretische Analysekonzepte, Simulationen, Experimente und empirische Studien.
Vorlesungen zu interdisziplinären Themen, wie:


Informationswirtschaft und eFinance,
Market Engineering und Computational Economics,
Geschäftsmodelle im Internet,
Management of Business Networks.

Habilitanden:

Doktoranden: 21 Dissertationen (seit 1999)
Seit 2005 Direktor im Fachbereich Information Process Engineering (IPE) des FZI - Forschungszentrum Informatik an der Universität Karlsruhe. Am FZI wird insbesondere zu Themen mit den Schnittstellen zu "Semantischer Technologie", "Serviceorientierung" und "Wissen und Lernen" mit Schwerpunkten in eHealth, Logistik und Services gearbeitet.
Seit 2004 Sprecher des Forschungsschwerpunkts eOrganisation der Universität Karlsruhe (TH)
Seit 2002 Prodekan (Forschung) der Fakultät für Wirtschaftswissenschaften der Universität Karlsruhe (TH)

Auslandsaufenthalte und Gastprofessuren

Mitgliedschaften und Funktionen

Mitherausgeberschaften und Gutachten

Mitherausgeber internationaler Zeitschriften (z.B. Group Decision and Negotiation)
Mitherausgeber der Zeitschrift WI - Wirtschaftsinformatik
Mitherausgeber der Zeitschrift BIT - Banking and Information Technology
Mitherausgeber Electronic Markets
Mitherausgeber der Buchreihe "Studies on eOrganisation and Market Engineering"
Gutachter für den Deutschen Bundestag
Gutachter für eine Reihe nationaler und internationaler Zeitschriften

Preise und Auszeichnungen