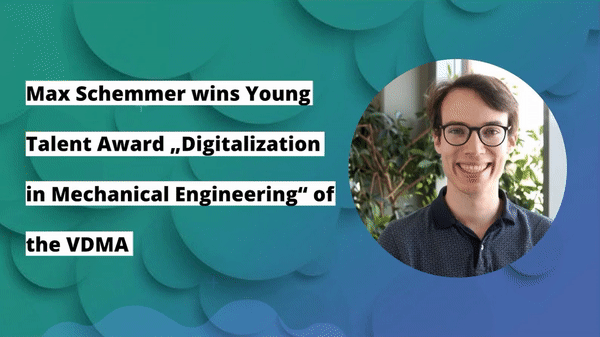 Max Schemmer wins Young Talent Award: Digitalization in mechanical engineering of the VDMA
Date:

10.12.2020

We congratulate Max Schemmer, research associate and PhD candidate in the Digital Service Innovation research group of the KSRI/IISM, for winning the first place in the "Nachwuchspreis: Digitalisierung im Maschinenbau" (Young Talent Award: Digitalization in mechanical engineering) of the VDMA with his mater thesis, titled "Design knowledge for image mining-based decision support systems: A case study in automated tool wear analysis." (Link to their post: https://www.linkedin.com/posts/vdma_vdma-zeichnet-junge-maschinenbauer-mit-nachwuchspreis-activity-6742406657592086528-Xunj)
In his thesis, together with Ceratizit Austria GmbH, he developed a solution for automated, computer vision-based tool wear analysis based on artificial intelligence. The study followed an iterative Design Science Research approach: Initially, with the help of interviews with domain experts use cases and requirements were collected. Based on these, an AI-enhanced web application was developed and evaluated. His research has both practical as well as research implications. First, the innovative solution extends the service offerings of the Ceratizit Austria GmbH. Second, throughout the design science research project design knowledge was created which can support researchers in the development of image mining applications.
In his PhD he builds on top of this work and is currently researching on topics in the area of Human-Computer Collaboration and AI-based Servitiztation together with IBM. If you are interested in one of the topics feel free to contact him.