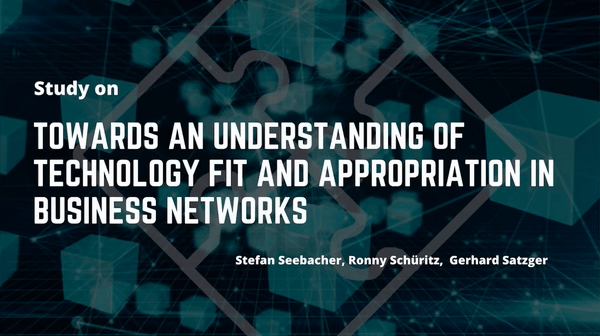 Study on "Towards an understanding of technology fit and appropriation in business networks"
Date:

02.11.2020

More than ever, business performance depends on connectivity. Blockchain enables us to connect beyond company borders.
Today, organizations are increasingly connected with their business partners through information technology. However, the aspects that impact the performance of such technology-enabled networks are yet to be investigated. Stefan Seebacher, Ronny Schüritz, and Gerhard Satzger of the DSI Group of KSRI/IISM integrate insights of interviews with experts that implemented a diverse set of blockchain systems with the Fit-Appropriation Model and develop a comprehensive research model. They illustrate how technology fit as well as technology appropriation can be applied on a network level, thereby, identifying factors that impact the performance of a technology-enabled business network.
The research will be published later this year in the Journal of Information Systems and e-Business Management.
If you have any questions, feel free to contact our expert on Blockchain Stefan Seebacher or the other authors Ronny Schüritz and Gerhard Satzger.