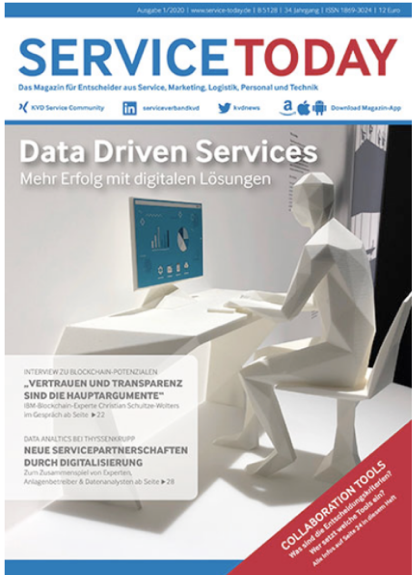 SERVICETODAY introduces current KSRI projects in the area of data-based services
Date:

26.03.2020

The current issue of the magazine SERVICETODAY (Magazine of KVD on management, organization and practice in service) introduces three ongoing projects of DSI at KSRI on data-driven services:

: The project aims at the systematic development of data-based services starting from new data resources including with concrete methodological workshops. Contact: Fabian Hunke

Service Meister: The project investigates the possibilities for the use of AI solutions to support complex service processes. Contact person: Lucas Baier

bi.smart: The new bi.smart project is working on a new development logic in which data from the customer to the service and product design are newly systematized and transferred into a dynamic process model. Contact person: Carina Benz

You can download the complete article on this page.