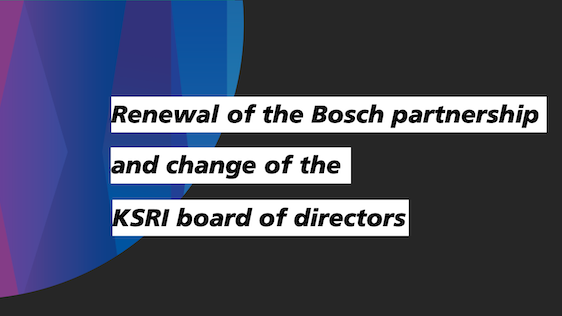 Renewal of Bosch partnership and change in KSRI board of directors
Date:

12.12.2019

The partnership between Robert Bosch GmbH and the Karlsruhe Service Research Institute (KSRI) at KIT, which has existed since 2013, is being further developed. The active topics in the area of "Supply Chain Optimization" will now be expanded to include analytics topics from the "Automotive Service Solutions" application area.
The thematic expansion of the cooperation also involves a change in the KSRI board of directors. We would like to thank Dr. Markus Bauer for his successful cooperation in recent years; he will now be increasingly active in the field of logistics innovations and will continue to work closely with KIT. Dr. Jens Ernst Müller will coordinate the cooperation with KSRI with immediate effect and actively complement the KSRI Board of Directors as Bosch representative. He will be supported by Dr. Welf Schneider, who is also responsible for further logistic topics.
With Dr. Müller and Dr. Schneider, two KIT alumni will become active again at their Alma Mater - both successfully completed their doctorates at the University of Karlsruhe (TH)/ KIT a few years ago.