Graduate Program

KSRI offers a new interdisciplinary graduate program "Service Research" with focus on Service Value Networks.
Program Focus
In close collaboration with associated industry partners, the graduate program will investigate research questions arising from complex service systems. The interplay of various basic (electronic) services creates value for the consumer by combining different services to a complex network of basic services, a so called Service Value Network. Two main research streams delineate the challenging research questions the PhD candidates will study: Human based Services and Service Value Network Analytics.
Human based services leverage human intelligence over IT infrastructure by allocating tasks electronically to humans. The main advantage is the scalability of this system by having thousands of workers fulfilling the allocated tasks. A well-known example is Amazon Mechanical Turk. The design of incentives to manage the behavior of the participants or the optimal outcome on a Human based Services platform are non-trivial challenges in science.
Service Analytics and Monitoring is becoming more and more important, since the amount of produced data is continuously increasing. In 2009 over 800 billion gigabytes were created, which is a growth of 62 percent compared to 2008 according to EMC. The efficient management of the data from a technical and the right interpretation from an economical perspective is the key to successfully exploit information.
Both research streams enable new ways of tackling well-known as well as new challenges in science. PhD candidates can derive interesting research questions from these streams.

The identified research questions ideally include practical problems located in the four domains: energy, healthcare, information and communication technologies as well as logistics. Smart Grids in the energy domain or ICT-supported patient services in healthcare provide a huge amount of data, which has to be transformed into information and further on into knowledge to detect process failure and to create reliable forecasts. Optimization problems like efficient resource usage in a distributed network of services have to be solved in order to create value. These practical problems require a methodological approach.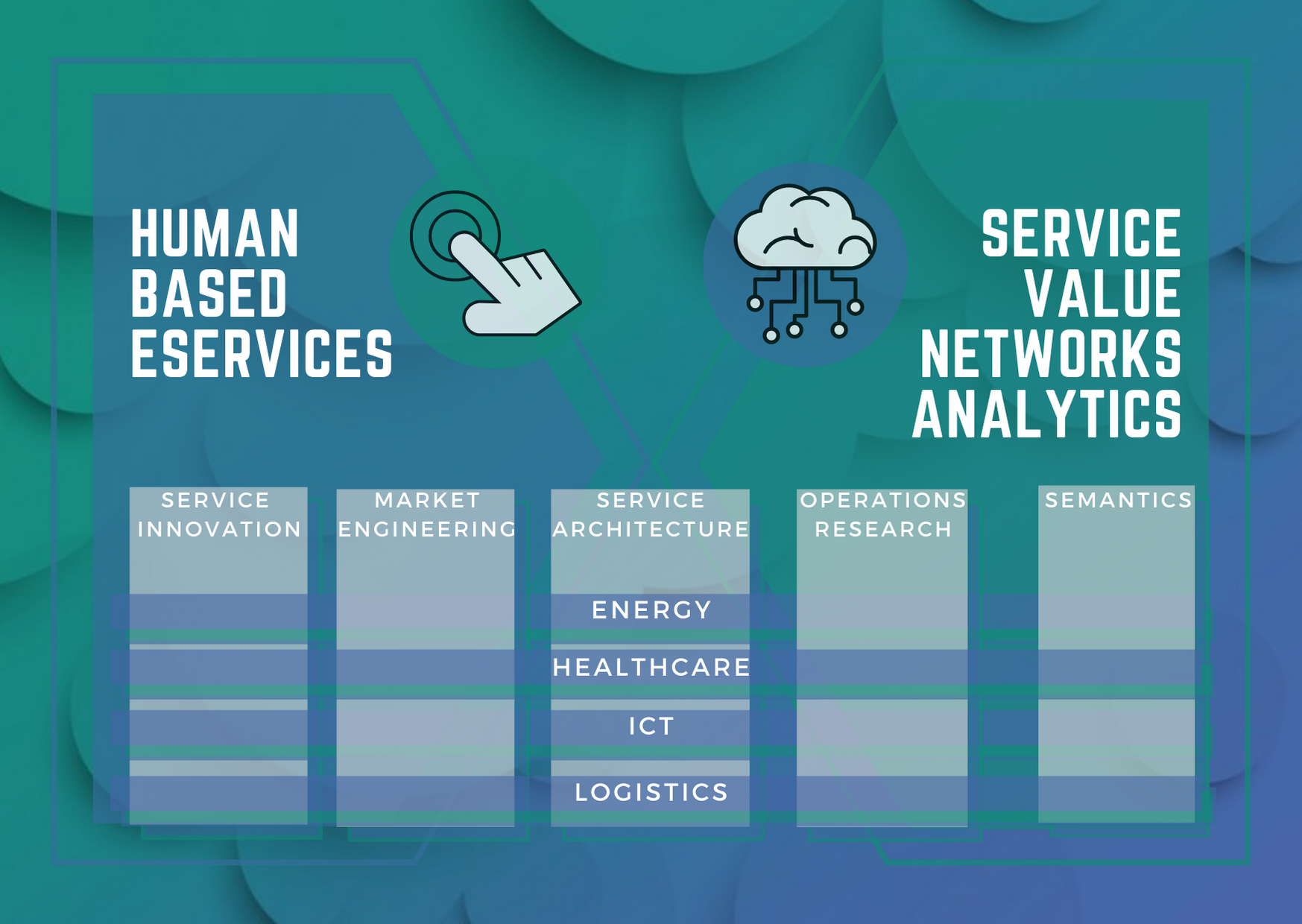 ​

Five research disciplines play a major role in the graduate program to tackle these research questions methodologically:
Each discipline provides methods and tools to analyze challenges in the area of Service Value Networks from different perspectives and to elaborate these challenges in a structured and systematic way. PhD candidates have the opportunity to work with experienced researchers in theses domains and disciplines in order to answer the identified research questions. The program offers wide prospects for interdisciplinary research in an inspiring, team-oriented, and international research environment with strong ties to industry.

Program Details
Members of the three-year program will benefit from:
Pursuing a PhD degree;
Association with primary supervisor from KSRI together with a dedicated senior researcher; from the 2nd year onwards assignment of a secondary supervisor from KSRI;
Association with a dedicated industry mentor;
A compulsory research stay at an international (industry) partner site for 4-6 months in 2nd program year;
Funding through tax-free stipends for up to three years (equivalent to DFG programs);
Additional moderate employment as student assistant possible;
Support for consumables and travel from KSRI;
Regular joint research seminar for program participants;
Integrated course program with personal training courses (offered e.g. in cooperation with the Karlsruhe House of Young Scientists). Upon assessment with the supervisor, personal training courses can/should be replaced with technical course program from MSc-level lectures during the first program year.
Details of the formal regulations can be found in the official KIT Statutes for the Graduate Program 'Service Research' (in German).

Application requirements and process
Please note: all positions in the KSRI graduate program are taken, currently.
There will be more positions available at the Karlsruhe School of Services (KSOS) soon. Please refer to KSOS.
We encourage applications of MSc-level graduates with relevant backgrounds, primarily from computer science, economics, engineering, information systems, management, mathematics, and social sciences.

The candidate should meet the following requirements:
Degree equivalent to the German master degree or the German diploma in one of the above mentioned disciplines with an impressive academic record.
Profound knowledge in Information Systems with focus on electronic services
Fluency in English with at least basic skills in German
Industry experience, e.g. via internships
Innovative ideas, good communication and organization skills
Team player
Ready to take on responsibility
The candidate should be able to complete the following tasks:
Conduct independent research work
Proactive research and organization
Push forward interdisciplinary research topics
Interested candidates are invited to submit their application. Applications should include:
A cover letter explaining the motivation to join the program and a statement about potential primary perspective(s)/supervisor(s)
A complete curriculum vitae,
Copies of degree certificates/ transcripts,
Writing samples/copies (e.g. thesis, scientific papers), and
Preferably two letters of recommendation.
Applications should be submitted electronically via email to applicationsHbn5∂ksri kit edu as a single file in portable document format (PDF) and should be officially addressed to:
Karlsruhe Service Research Institute (KSRI)
Peter Hottum
Kaiserstr. 89,
D-76133 Karlsruhe, Germany
Date of entry can be contemplated on request. KIT is committed to increasing the share of women in research and especially encourages female candidates to apply.
For further questions, please contact management∂ksri.kit.edu.