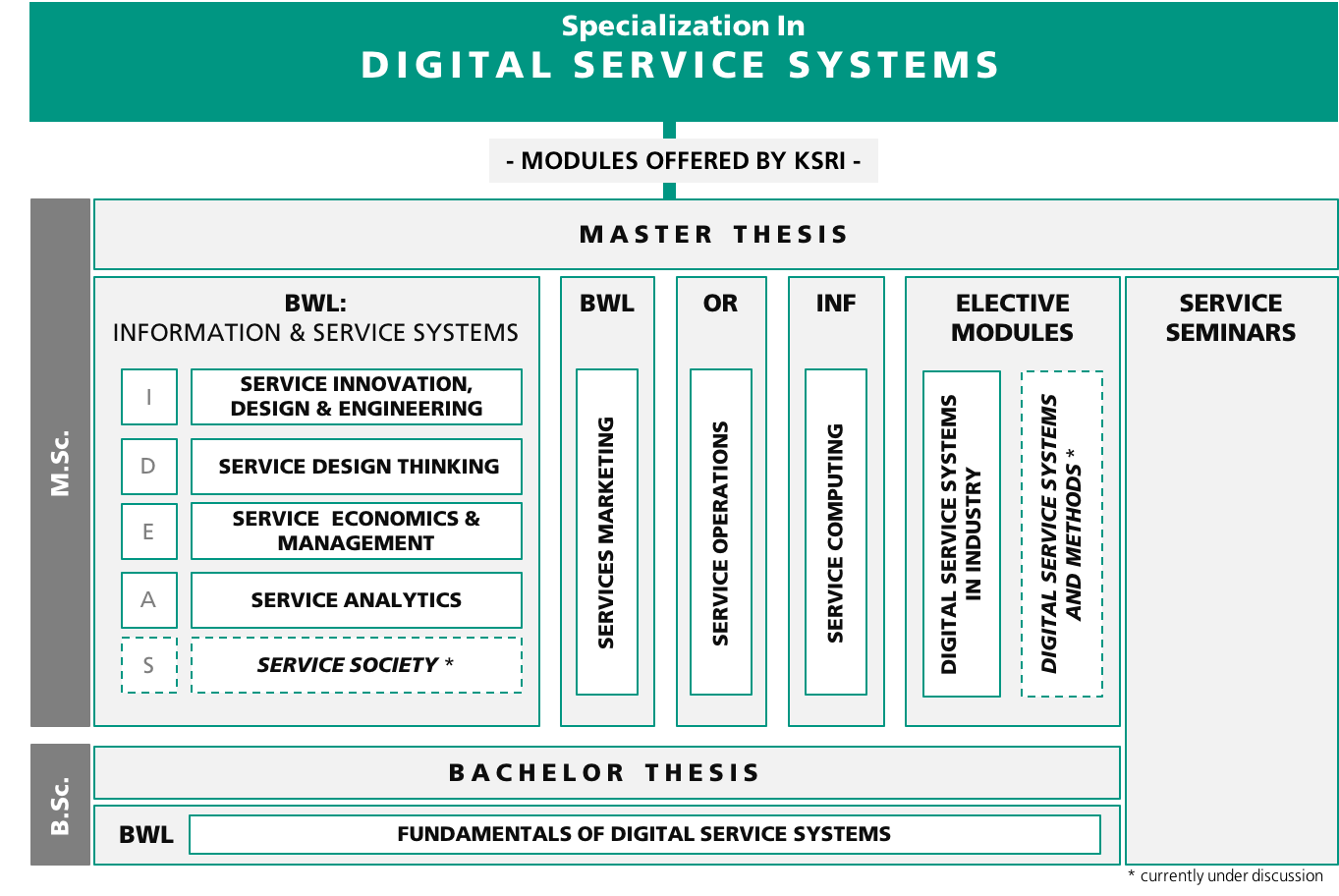 In an increasingly "service-led economy" - with a rising services share of overall value creation and faster cycles of new services and service-based business models - the demand of the market for interdisciplinary service specialists to fill professional and leadership positions, is also growing.
In this context we would like to offer a focused education, thereby providing a unique profile with clear visibility for companies.
Here in Karlsruhe we are focusing on those services (see also "Research") which
are jointly co-created by provider and customers as partners and
whose delivery is enabled or support by ICT (Information & Communication Technology)
Gaining practical experience in collaboration with industry partners is a central aspect of this market-oriented education of services professionals.
We offer a wide variety of lectures in the field of services, comprising both technical and economical courses. The core of this program is the undergraduate lecture "eServices", in which the basics of designing and managing digital services are presented. More detailed content is provided by several dedicated lectures and seminars within the graduate level modules "Service Management und Service Engineering". These, along with other courses relevant to services in general, are available. Further information can be found in the "Modulhandbuch" of the respective Module.
Further information regarding our courses can be found under "Courses" in the navigation bar. If you are interested in writing your Thesis at KSRI please have a look at our list of available topics.
Thank you for your interest, we look very much forward to working with you in courses, seminars, projects, etc.
For any questions please contact the tutor of the respective course.
Module Contents
Service Innovation, Design & Engineering
[M-WIWI-102806]
Courses:
Service Innovation
Digital Service Design
Business Models in the Internet: Planning and Implementation
Practical Seminar Service Innovation
Practical Seminar Digital Service Design
Content:
This module is designed to constitute the basis for the development of successful ICT supported innovations thus including the methods and tools for innovation management, for the design and the development of digital services and the implementation of new business models. Current examples from science and practice enhance the relevance of the topics addressed.
Service Design Thinking
[M-WIWI-101503]
Course:
Content:
Paper Bike: Learning about the basic method elements by building a paper bike that has to fulfill a given set of challenges.
Design Space Exploration: Exploring the problem space through customer and user observation.
Critical Function Prototype: Identification of critical features from the customer's perspective that can contribute to the solution of the overarching problem. Building and testing prototypes that integrate these functionalities.
Dark Horse Prototype: Inverting earlier assumptions and experiences, which leads to the inclusion of new features and solutions.
Funky Prototype: Integration of the individually tested and successful functions to a complete solution, which is further tested and developed.
Functional Prototype: Further selection and convergence of existing ideas. Building a higher resolution prototype that can be tested by customers.
Final Prototype: Preparing and presenting the final solution to the customer.
Service Economics and Management
[M-WIWI-102754]
Courses:
Business and IT Service Management
Market Engineering: Information in Institutions
Digital Transformation of Organizations
Content:
This module provides the foundation for the management of digital services and corresponding systems. The courses in this module cover the major concepts for a successful management of service systems and their digital transformation. Current examples from the research and practice enhance the relevance of the discussed topics.
Service Analytics
[M-WIWI-101506]
Courses:
Service Analytics A
Service Analytics B - Enterprise Data Reduction and Prediction
Industrial Services
Business Intelligence Systems
Special Topics in Information Engineering & Management
Modeling and Analyzing Consumer Behavior with R
Content:
The importance of services in modern economies is most evident – nearly 70% of gross value added are achieved in the tertiary sector and a growing number of industrial enterprises add customer specific services to their material goods or transform their business models fundamentally. The growing availability of data "Big Data" and their intelligent processing by applying analytic methods and business intelligence systems plays a key role. It is the goal of the module to give students a comprehensive overview on the subject Business Intelligence & Analytics focusing on service issues. Various scenarios illustrate how the methods and systems introduced help to improve existing services or create innovative data-based services.
Services Marketing
[M-WIWI-101649]
Courses:
Services Marketing
Online Marketing
Marketing Communication
Pricing
Case Studies in Sales and Pricing
Content:
Understanding of services marketing. Besides the classical offline services, the module also focuses on online services. The course "Services Marketing" starts with an overview of basic content and strategies in services marketing. Within the course "Online Marketing" students learn about current topics (research and practice) in online marketing and learn how the transparency of the internet provides new opportunities to measure the success of marketing instruments. In "Marketingkommunikation" students learn about marketing communication objectives and strategies. The course "Pricing" builds a fundamental understanding of price management. In the course "Case Studies in Sales and Pricing" students work with case studies helping them to understand the bridge between theoretical and practical knowledge.
Service Operations
[M-WIWI-102805]
Courses:
Operations Research in Supply Chain Management
Operations Research in Health Care Management
Practical Seminar: Health Care Management (with Case Studies)
Discrete-event Simulation in Production and Logistics
Supply Chain Management in the Process Industry
Challenges in Supply Chain Management
Content:
This module communicates the theoretical fundamentals and solution methods for optimization problems in the service context focusing on Supply Chain Management und Health Care. Students will deepen and strengthen their knowledge of the basic approaches to service specific problems in the planning and optimization with mixed-integer decision variables.
Service Computing
[M-WIWI-102827]
Courses:
Semantic Web Technologies
Service Oriented Computing
Knowledge Discovery
Web Science
Knowledge Discovery and Data Mining (Watson)
Advanced Lab Applied Informatics
Content:
Services can be considered from different perspectives. Computer Science considers Services and Web Services traditionally as a piece of software, which fulfills a specific task. By the permanent rise of Cloud Applications, these services become more important. The offered Services and their functionalities have to be described sufficiently in order to be detectable.
In this module the most important network learning methods are introduced and their applicability is discussed with regard to different information sources
Furthermore, network analysis is presented, as well as architectures and descriptions for Services.
Thereby, the practical usability of the presented methods and algorithms in their particular fields of application are compared.
Digital Service Systems in Industry
[M-WIWI-102808]
Courses:
Basics of Liberalised Energy Markets
Challenges in Supply Chain Management
Industrial Services
Modeling and OR-Software: Advanced Topics
Digital Transformation of Organizations
Practical Seminar Digital Service Systems
Content:
This module aims at deepening the fundamental knowledge of digital service management in the industrial context. Various mech- anisms and methods to shape and control connected digital service systems in different industries are discussed and demonstrated with real life application cases.
Fundamentals of Digital Service Systems (Bachelor Module)
[M-WIWI-102752]
Courses:
Foundations of Digital Services A
Foundations of Digital Services B
Practical Seminar Digital Services
Content:
Global economy is increasingly determined by services: in industrialized countries nearly 70% of gross value added is achieved in the tertiary sector. Unfortunately, for the design, development and the management of services traditional concepts focused on goods are often insufficient or inappropriate. Besides, the rapid technical advance in the information and communication technology sector pushesthe economic importance of digital services even further thus changing the competition environment. ICT-based interaction and individualization open up completely new dimensions of shared value between clients and providers, dynamic and scalable "service value networks" replace established value chains, digital services are provided globally crossing geographical boundaries. This module establishes a basis for further specialization in service innovation, service economics, service design, service modelling, service analytics as well as the transformation and coordination of service networks.