Service Design Thinking
What is Design Thinking?
Design Thinking is a method for successfully developing breakthrough solutions. The methodology helps build innovations by going beyond the consideration of technological and economical perspectives: From the very beginning, Design Thinking focuses on the needs of future users and thus enables people to develop radical new products, services and business models.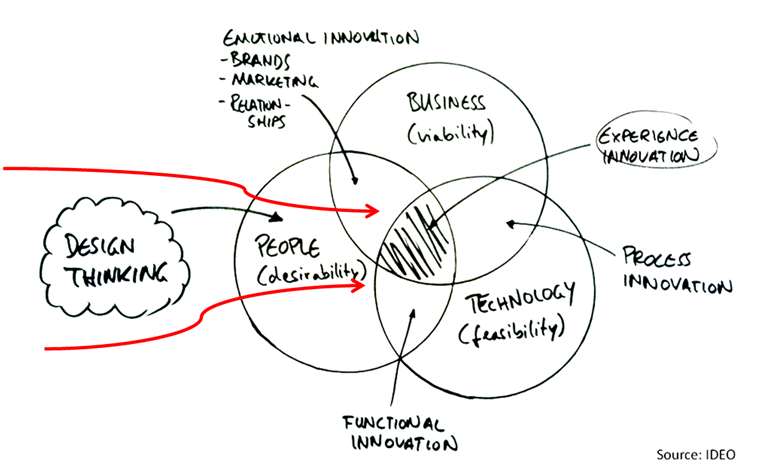 Design Thinking is human-centred
Design Thinking always focuses on people: On costumers, users, employees, etc. Therefore, interviews and observations are two of the most important instruments in Design Thinking processes. Eventually, the user is the one who decides whether a product or a service will be successful.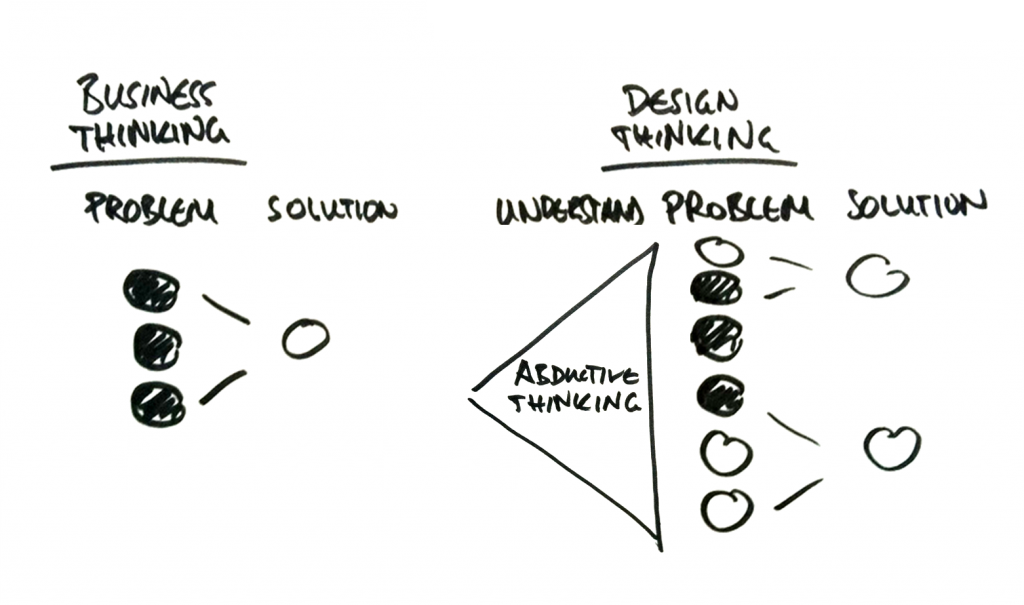 Design Thinking is development through divergent and convergent phases
The Design Thinking methodology enables the team members to think in diverse ways and helps develop a whole pool of new ideas (divergent phase). Subsequently, it also helps identify the best ideas and focus on developing their advantages (convergent phase).

Design Thinking is a dynamic process
Throughout the whole project, Design Thinking is an iterative learning process. Thus, the whole team is moving between stages of the innovation process: Understanding the problem, re-defining the problem, need-finding, ideation, building of prototypes and – most importantly – testing with potential end-users.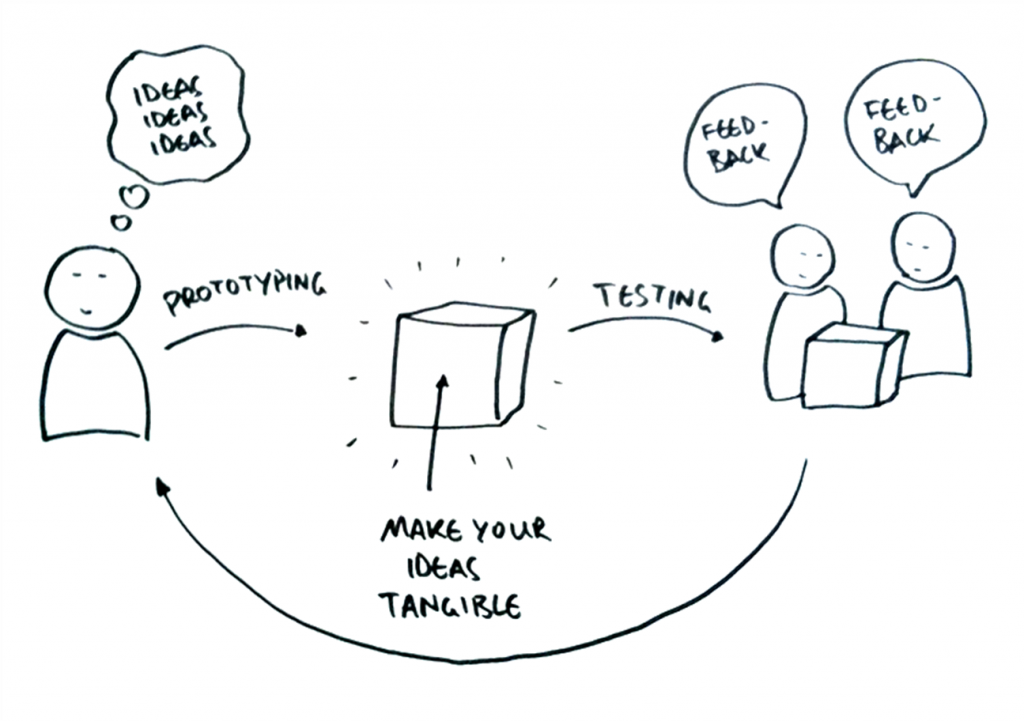 Design Thinking means Prototyping
Prototyping is communicating. Each prototype makes current ideas visible and tangible – and thus enables them to be discussed. It allows involving end-users from the very beginning of the innovation process.

All images by courtesy of ©University of St. Gallen.
Application and formal requirements
Design Thinking is more than a usual lecture in your study plan. For 9 ECTS credits, you will have to face a real business challenge. If you are willing to work on a real business problem in a team of five excellent students for a total of nine months (September '20 to June '21), you will get the unique chance to work with renowned Universities like University of St. Gallen – not to forget the mentors from your partner company.

What we expect:
You should be studying Business Engineering (M.Sc.), Information Engineering and Management (M.Sc.) or Computer Science (M.Sc.) at KIT.
Excellent achievements, enthusiasm and willingness to work together in a small team.
Good grades are important. But the same is true for your personality and, if applicable, your experience in Design Thinking.
Willingness to work diligently on a nine-month-project: 110% for your team, for your tasks, for your company. This is why we expect you to be present in Karlsruhe for the duration of the project.
Details on application deadlines will be published on this site.
What you get:
Experience in solving a real business innovation problem by applying the renowned Design Thinking methodology as developed and taught at Stanford University.
9 ECTS credits for a complete BWL module "Service Design Thinking".
Active participation in international Meeting of the SUGAR Network.
You will be part of the great SUGAR network of students and coaches from renown universities such as the University of St. Gallen, TU Munich, USTC China, or the Trinity College Dublin.
Coaching throughout the entire project.
If you are interested in this course, you can apply for it via this offer on the KIT WiWi Portal.
Partner
This course is realized in close cooperation with
universities from the SUGAR Network
(incl. Hasso-Plattner Institute, University of St. Gallen, or the Trinity College Dublin)
The SUGAR program is inspired by the Design Thinking course ME310 at the Stanford University. It pulls together internal engineering and business students to work on real-life innovation challenges. Working together in small teams, the students realise breakthrough solutions in close cooperation with industry and the collaborating universities. Meanwhile the SUGAR program is offered by over 20 universities from around the globe forming the SUGAR Network. Established partner universities of the KIT from the SUGAR Program include Aalto University Helsinki, the Hasso-Plattner Institute in Potsdam, the Trinity College in Dublin and the University of St. Gallen.
The website of the SUGAR Network provides an impression of the international collaboration in this educational program.
Lecture Format
One-course Module [WI4BWLKSR2]

Interactive course incl. lectures, intensive team sessions, and strong industry-cooperations
Credits
9 ECTS
Lecturers
Prof. Dr. Gerhard Satzger, Prof. Dr. Christof Weinhardt,
Dr. Niels Feldmann, Anke Holtmann-Plog, Dr. Ronny Schüritz
Start & Duration
Starts every year mid-September, ends end of June of the subsequent year (9 months)
KIT-Start of the 2020/21 course: 17-18 Sept., 2020
KIT-End of the 2020/21 course: June 30, 2010
Kick-Off and closing events
Kick-Off: end October, 2020
Closing: mid/end June, 2021

Program Coordinator & Focal Point
Niels Feldmann
Application
Apply via the KIT WiWi Portal (Link) !

Applications can be submitted in English or German.

The application process for 2020/21 end June 14th 2020.
Course Overview
The module "Service Design Thinking" is more than a mere academic exercise - Master Students in Business Engineering (M.Sc.) and Information Engineering and Management (M.Sc.) at KIT are confronted with a real-life innovation challenge from industry.

In cooperation with an industry partner and partner universities from the SUGAR Network the KIT students will learn and practically apply the philosophy, ideas and instruments of "Design Thinking". Over nine months, teams of eight students will develop innovative solutions for concrete business problems from their respective partner company. The Design Thinking project will focus on service, process and business model innovation.

The program includes international meetings and get-togethers of the participating universities. The student teams will be accompanied by professional Design Thinking experts during these meetings. Facilitators from KIT and the company will support the teams throughout the project. Travel expenses and material costs will be covered by sponsors.