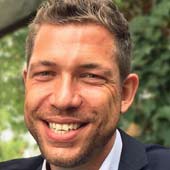 Dipl.-Inform.Wirt. Peter Hottum
General Management / Network Management

by appointment

4A-03

peter hottum∂ kit edu
Kaiserstr. 89

Building 05.20
D-76133 Karlsruhe
Activities
Research Interests
Service Analytics and Data Mining
Service Systems and Value Co-Creation
Customer Contribution Management (CCM)
Customer Involvement and Service Quality
Service Science, Management and Engineering (SSME)
Teaching
Service Innovation in Practice (practical seminar)
Service Science Management and Engineering (seminar)
Service Innovation (lecture and exercise)
Projects
Curriculum Vitae
Peter graduated in Information Engineering and Management at the Universität Karlsruhe (TH). During his studies he gained project experience in service and industrial companies, like IBM (Global Business Services, Munich), SAP (Inspire/Research, Walldorf), Daimler (Truck Group Europe, Woerth) and Siemens (Power Transmission and Distribution, Shanghai). He wrote his Diploma thesis on a topic related to challenges and solution statements on procurement of knowledge-intensive services.
In July 2009, Peter joined the Karlsruhe Service Research Institute as a member of the Digital Service Innovation research group. From March to June 2012, he worked with Professor Stephen Kwan as a visiting scholar at San José State University (USA). Since November 2015 he is the General Manager of the Karlsruhe Service Research Institute.
Based on his interdisciplinary research in the domain of Service Science Peter has authored articles in various disciplines of Business Research (such as Service Management, Information Systems and Operations Research). Those articles have been published in renowned journals (e.g., zfbf (in German), Service Science and Service Industries Journal) and at conferences (e.g., International Conference on Exploring Service Science, Hawaii International Conference on System Sciences and International Conference on Operations Research).
Awards
Research Travel Scholarship of the Karlsruhe House of Young Scientists 2012
Award of the Department of Economics and Management for the exercise on Service Innovation 2010
Academic and Scientific Activities
Co-Chair of the workshop 'IT-enabled services for e-mobility 2013' in the context of the 43rd annual meeting of the Gesellschaft für Informatik (GI e.V.)
Chair of the session 'Service Analytics and Optimization' at the International Conference on Operations Research 2014
Session chair at the 6th International Conference on Exploring Service Science 2015
Member of the workshop committee of the 1st Karlsruhe Service Summit Research Workshop 2015
Session chair at the 24th Annual Frontiers in Service Conference 2015
Member of the workshop committee of the 2nd KSS Research Workshop 2016
Local Arrangements Chair of the 12th International Conference on Design Science Research in Information Systems and Technology 2017