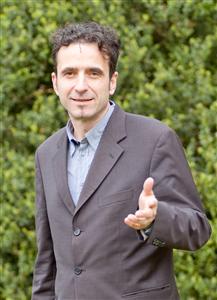 Dr. Ulrich Scholten
Office Hours:

Nach Vereinbarung / by appointment
Englerstr. 11
Gebäude 11.40, 2. OG
D-76131 Karlsruhe
Activities
Research Topics
IT-enabled Innovation Strategies in Platform Contexts,
Emergence, Network Effects and Control in Platform Ecosystems.
Entrepreneurship in the Cloud.
Projects:
Curriculum Vitae
Dr. Ulrich Scholten was a research associate at KSRI where he lead a project on Strategic Value Nets in cooperation with SAP Research sap.com
. In this project, his research included network effects, emergence and control mechanisms in platforms and distributed cloud scenarios.
Ulrich has worked in a variety of roles in industry and government agencies in Europe, Asia, Africa, North and South America. He is the founder of the UAE based Business Angel company VentureSkies VentureSkies.com
as well as co-founder of the Consortium for Radar-as-a-Service SkyRadar skyradar.com
. Mr Scholten is Board Member of S. Chand Eductech skyradar.com
, an India-based provider of eLearning-as-a-Service. He has been active as a consultant and partner for companies such as Deutsche Flugsicherung dfs.de
or SAP SAP.de
since the late 1990s.
For several years Ulrich worked in the headquarters of the Robert Bosch Automation Division (Stuttgart) where he was in charge of the development of international distribution structures. In 1998 he initiated a spin off for Web Based Learning Technologies and developed it to an internationally active company of web based training.
In 2000, Ulrich initiated the Dassie Project, one of Africa's first cross-regional learning networks. The project reached thousands of learners and motivated companies like Bosch and SAP to join in.
Ulrich graduated at Fachhochschule Koblenz in 1991 after a final year project at Staffordshire University in the UK. He then gained an MBA at Leicester University, UK, in conjunction with the Grande Ecole ESC de Poitiers, France.
Ulrich Scholten has developed the Dynamic Network Notation within the group Economics and Technology of eOrganizations. He hence models and investigates Service Platforms to find out whether they can actively create or control network effects. Further information is available here dynocloud.org
.
Ulrich is married and has two children.
More under UlrichScholten.de
.