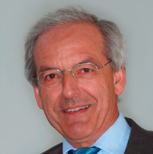 Wissensmanagement

Di, 9.30 Uhr nach Vereinbarung

5A-17

+49 721 608-46580

rudi studer∂kit edu
Kaiserstr. 89,

D - 76133 Karlsruhe
Tätigkeiten
Rudi Studer ist Professor am Institut für Angewandte Informatik und Formale Beschreibungsverfahren
(AIFB) am KIT. Er ist zudem Direktor am Karlsruhe Service Research Institut (KSRI) und am FZI Forschungszentrum Informatik.
Seine Forschungsinteressen umfassen Wissensmanagement, Semantic Web Technologien und Anwendungen, Data and Text Mining, Big Data und Service Science.
Lebenslauf
Sein Informatik-Diplom erhielt er 1975 an der Universität Stuttgart. 1982 promovierte und 1985 habilitierte er an der Universität in Stuttgart. 1985 bis 1989 war er Projektleiter und Manager am wissenschaftlichen Zentrum von IBM Deutschland.
Er ist an zahlreichen nationalen und internationalen Forschungsprojekten beteiligt, unter anderem am Software-Cluster des BMBF-Spitzencluster-Programms sowie an den EU-Projekten XLike (crossLingual Knowledge Extraction) und XLime (crossLingual crossMedia Knowledge Extraction).
Rudi Studer war Gründungspräsident der Semantic Web Science Association und Editor-in-chief des Journal of Web Semantics: Science, Services and Agents on the World Wide Web.