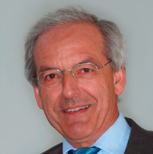 Group:

Knowledge Management

Office Hours:

Di, 9.30 Uhr nach Vereinbarung

Room:

5A-17

Phone:

+49 721 608-43923

Fax:

+49 721 608-46580

rudi studer∂kit edu
Kaiserstr. 89
Gebäude 5.20, 5. OG
D-76133 Karlsruhe
Activities
Rudi Studer is Full Professor in Applied Informatics at the Karlsruhe Institute of Technology (KIT), Institute AIFB. In addition, he is director at the Karlsruhe Service Research Institute (KSRI) as well as at the FZI Research Center for Information Technology.
His research interests include knowledge management, Semantic Web technologies and applications, data and text mining, Big Data and Service Science.
Curriculum Vitae
He obtained a Diploma in Computer Science at the University of Stuttgart in 1975. In 1982 he was awarded a Doctor's degree in Mathematics and Informatics at the University of Stuttgart, and in 1985 he obtained his Habilitation in Informatics at the University of Stuttgart. From 1985 to 1989 he was project leader and manager at the Scientific Center of IBM Germany.
He is involved in various national and international research projects, among others the Software-Cluster of the Leading-Edge Cluster Program of the Federal Ministry of Education and Research (BMBF) and the EU projects XLike (crossLingual Knowledge Extraction) and XLime (crossLingual crossMedia Knowledge Extraction).
He is former president of the Semantic Web Science Association (SWSA) and former Editor-in-chief of the Journal Web Semantics: Science, Services, and Agents on the World Wide Web. He is an STI International Fellow.